Our Nautical Boat Garage is a unique way to store, protect, preserve and display your watercraft.
Innovative Boat Docking & Storage
Nautical Boat Garage Features
Our No Profile platform lowers into the boat slip cut
Boat lift can be installed without decking to create an indoor aquarium
Additional boat storage using ceiling mounted slings
Jet skis can be stored and launched from platform
Compatible with all lot sizes and shapes
Customizable to builder's floorplan
Showcase and Protect Your Boat
Designed to Impress
Storage and showcase for your yacht becomes an integral design aspect of your home, with views from your living room, study, or library.
Nautical Boat Garage
Here's How It Works
The Nautical Boat Garage consists of a seawall cut and boat slip that extends into the footprint of the home, creating an enclosed storage stage which becomes an integral showcase piece.
Step 1
When it is time to come home, use your hand-held device to open the boat garage door.
Step 2
With the same device, command the No-Profile platform to submerge.
Step 3
Position your boat over the lift and raise the platform at the push of a button. Any time you release the command button all movement stops, and you can comfortably discharge passengers and equipment at any point.
Step 4
Your boat is safely inside your home where a wash down or maintenance can be performed.
Step 5
Additional storage is available for multiple boats or jet skis using ceiling mounted sling lifts.
Optional Aquarium
As an option, the platform deck can be removed to create an indoor aquarium.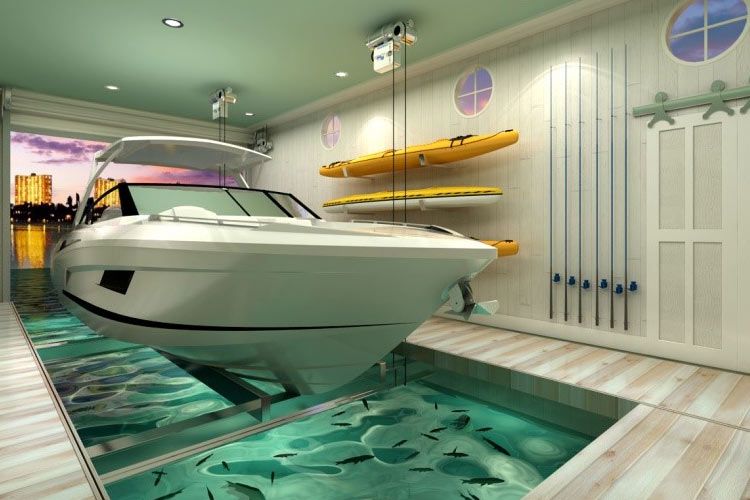 The Nautical Boat Garage is fully compatible with our Boat Trolley System.